Mission Statement
Please note that there is no update for this initiative since 2015.
Teatro El Maadi's core mission is to enrich and revitalize arts and culture in Egypt. We provide an interactivelearning environment that stimulates creativity, interaction, exchange of experience and networking.

What is Teatro ElMaadi?

Teatro ElMaadi (TEM) is a new cultural space and social hub established in 2014 in Cairo. Located at 200 St., in Maadi district, TEM encourages its visitors to celebrate art and culture whilst socializing with fellow members of the community in an inspiring ambiance.

Housed in a multi-purpose villa, TEM offers a vast array of services; mini-performances, film screenings, meet ups and networking events, training and capacity building opportunities in the arts field feature alongside children's activities and a cultural café serving delicious home made snacks. The space also serves as a non-traditional exhibition space; a gallery displaying the latest in Egyptian handicrafts and a boutique bookshop.

TEM is owned and managed by a group of artists and passionate art lovers who seek to offer an un-conventional and inspiring atmosphere, catering for the needs of a variety of sectors and age groups. TEM is a sister organisation to the arts space and social hub Teatro Eskendria, which has been established and successfully running since 2012 in Alexandria. The two Teatro's share the same spirit with a big similarity in the services offered.

There will always be something to delight you at TEM, where art, inspiration and community combine.

TEM will officially open on the 8th of November 2014.

Activities of Teatro El Maadi:

- Performances (storytelling, reading and poetry nights, acoustic indoor music events)
- Trainings and art workshops for adults, youth and children
- Film screening nights
- Exhibition space for young artists
- Gallery and Handicrafts shop
- Bazars and flea markets
- Bookshop boutique
- Meet-ups, networking events and discussions
- Cultural Café offering delicious home-made snacks and drinks.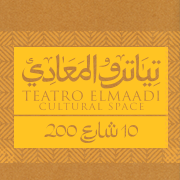 Related Past Events: