Mission Statement
The Liaison Office of the Swiss Arts Council in Cairo
Pro Helvetia Cairo is the first of Pro Helvetia representations abroad, set up at 1988. Pro Helvetia Cairo is set up to cover countries in the Arab region in addition to Egypt.
Fostering cultural interaction between these countries and Switzerland is one of Pro Helvetia's priorities. Pro Helvetia Cairo is physically linked with the Embassy of Switzerland, by having an office space on its premises.
In 2015, Pro Helvetia Cairo modified its profile to adopt a different approach with audiences in Egypt. This approach consists of three main pillars, the first of which is a focus on developing artistic productions for decentralized activities, to reach new audiences and different areas of Egypt. The second is raising discussions about contemporary art and culture through panel discussions and online projects. And the third is long-term cooperation projects for Swiss and Egyptian artists in the fields of theatre, music and visual arts.
In addition Pro Helvetia Cairo now has a new space in Garden City where it holds workshops, public lectures and panels about art and culture.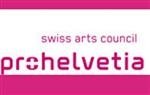 Related Past Events: