D-CAF - Downtown Contemporary Arts Festival
Mission Statement
Egypt's largest International multi-disciplinary contemporary Arts festival hosted in the heart of Cairo www.d-caf.org
D-CAF's mission is to produce a high-quality international contemporary arts festival in Downtown Cairo, showcasing local, regional and international artists and attracting diverse audiences from Egypt and abroad.

The third edition of Downtown Contemporary Arts Festival (D-CAF), Egypt's first international multi-disciplinary contemporary arts festival, will take place over three weeks in March-April 2014 at multiple sites in Downtown Cairo. D-CAF will include local, regional and international music, theatre, dance, visual arts and film by cutting-edge artists from Egypt, the Arab world, and beyond. In addition to featuring established Downtown cultural spaces and theatres, D-CAF uses non-traditional sites such as historical buildings, storefronts, alleyways, and rooftops as sites for performances, events, and arts installations, with the aim of bringing audiences and performers to engage with the city in a new way.

With its diverse and first-rate programming, D-CAF aspires to become one of the most important annual Arab art events by reaching out to a broad spectrum of Egyptian audiences, creating bridges between Arab artists, international curators and programmers, as well as capitalising on Downtown Cairo's unique cultural, social and architectural heritage. Furthermore, the D-CAF team seeks not just to bring the best in international contemporary culture to Cairo, but also to deliver a highly professional and well-publicised international festival.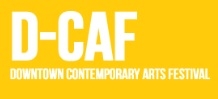 Related Past Events: